Want the Secret to Perfect Skin? Try an Ultrasonic Skin Scrubber!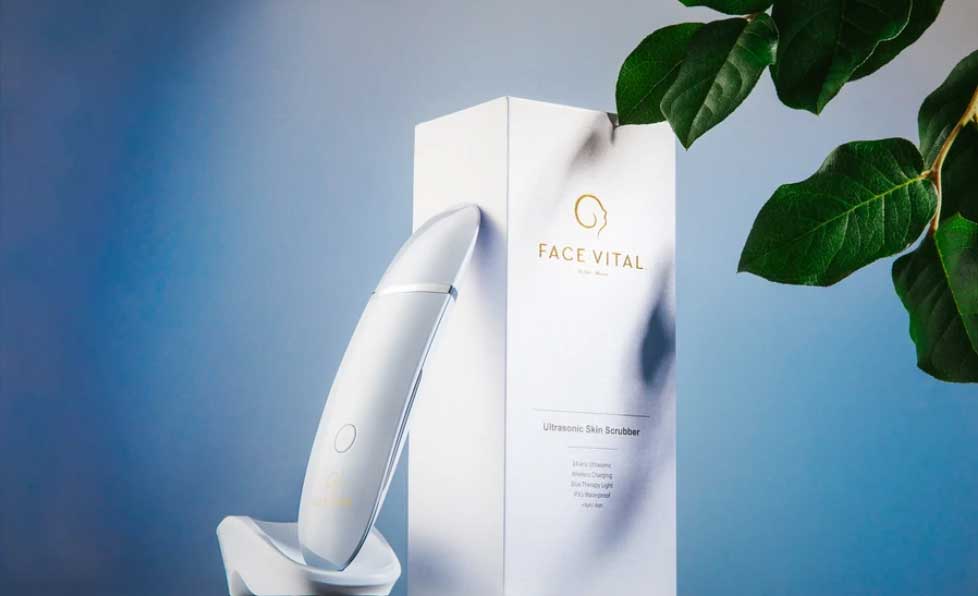 Are traditional skincare routines not providing you with the best results? With high-quality skincare being one of the biggest trends in beauty, your skin health and appearance are of the utmost importance. One of the biggest ways to boost your self-confidence is having a top-notch skincare routine, and adding an ultrasonic face scrubber into the mix is the perfect solution.  
What Is an Ultrasonic Skin Scrubber?  
You may be wondering how to use a sonic skin scrubber or how they work. The process is simple – high-frequency sound waves stimulate your pores, which causes them to open up and release any trapped makeup, oil, and dirt. Unlike poking and popping blemishes on your skin, ultrasonic face scrubbers are gentle, working at the root of your pores to help purge any grime from within. Ultrasonic face scrubbers are great for minimizing the look of pores while also effectively removing trapped dirt and debris without any damage.  
Using a slight amount of pressure, the tip of the ultrasonic face scrubber glides across your face while emitting high-frequency vibrations. This agitates dirt and debris in your pores and pushes them to the surface of your skin. The dirt and oil that come to the surface can be wiped off, leaving you with a clean face and clean pores. 
The next step includes going back over the skin with the flat edge of the tip, where any serums or moisturizers can be applied and worked into the skin. This process, referred to as sonophoresis, promotes the absorption of your products by working them into your skin with high-frequency sound waves.  
Are Ultrasonic Skin Scrubbers Good for Your Skin?  
Because of their low impact on the skin, ultrasonic face cleansers help purge your skin of impurities while staying damage-free. Compared to exfoliating brushes and traditional facial skin scrubbers, the ultrasonic face scrubber glides across the skin, giving you amazing results without unnecessary trauma. When used with other cleansers and toners, ultrasonic skin cleansers can be a blessing for your skin. The main ways that ultrasonic skin scrubbers can improve your complexion include:  
Amazing Exfoliation: Ultrasonic exfoliation, as mentioned above, is a wonderful alternative to traditional exfoliating methods. Certain exfoliants in different scrubs and masks can cause microtears in your skin, increasing your risk of developing more skin problems. However, the frequencies let out by the ultrasonic skin scrubber help lift dry skin cells, promoting skin cell turnover while preserving the surface of your skin. Plus, those with sensitive skin can comfortably use this product, knowing that their skin scrubber won't upset their skin like traditional exfoliants tend to do.  
Deep Pore Cleansing: The frequencies emitted by your ultrasonic skin scrubber help promote the release of debris deep in your pores, getting rid of acne-causing dirt and oil buildup. Used alongside a cleanser, the ultrasonic skin scrubber is a fantastic method for washing away any impurities, leaving your skin looking radiant.  
Reduction of Stubborn Blemishes: Blackheads and sebaceous filaments are notoriously hard to get rid of, but with an ultrasonic skin scrubber, these blemishes are gone with ease. The ultrasonic exfoliation provided with a skin scrubber is less damaging than extracting these blemishes, which usually cause more problems than they solve by leaving pores enlarged and causing irritation to the surrounding skin.  
Promotes Product Retention in Skin: Healthy, glowing skin is all the rage, so incorporating serums and retinol into your routine can help improve your skin. By using an ultrasonic face scrubber, your products get absorbed into your skin more effectively than topical application.  
Can I Get the Same Benefits from a Washcloth?  
Washcloths, because they only clean the surface of your skin, are not as effective as a facial skin scrubber. Ultrasonic face scrubbers, because of their deep pore cleansing ability, are a lot better for deep-cleaning than washcloths. Plus, because of the non-porous tip, it's easier to keep clean compared to washcloths, which can harbor bacteria and debris from previous uses.   
You May Be Asking: Do Ultrasonic Face Scrubbers Really Work?  
Short answer – Yes! The skin scrubber benefits you'll see while using a facial skin scrubber are extremely noticeable and can keep your skin healthy for years to come. Besides the physical benefits of ultrasonic face scrubbers, the health benefits are an added perk to their already top-tier performance. Because of how the system operates, with slight firm pressure against the skin, using an ultrasonic face scrubber can improve circulation and lymphatic drainage, leaving your skin feeling relaxed while looking stellar.  
Regardless of the season, proper skincare is a top priority to maintaining your skin's health. Whether it be winter routines that heavily rely on moisturizing or summer routines that emphasize sunscreen use, an ultrasonic face scrubber will ensure your skin is the healthiest it can be year-round. The best thing you can do for your skin is to buy an ultrasonic skin scrubber, and after your first use, you'll be set for life.
---